Tomoyo Daidouji
There are a lot of different animes that are dear to the followers of lolita fashion and that helped shape it and helped it become better known, (especially outside of Japan). Some of those animes, such as NANA, Rozen Maiden or Death Note helped create trends and gave both fans of the fashion and prominent designers a "face" or a "model" that represented it well.
While other animes, which usually tell us the story of a magical girl that uses her magic powers to deal with the problems of the world, often show us a lot of different costumes that resemble lolita fashion not because they want to popularize it, but simply because they love the silhouette of this particular type of dress: to a little girl, a dress full of ribbons, lace and delicate details will look like the one of a princess, a witch or a fairy, so lolita fashion is a good choice for a heroine of an anime that wants to be good, kind and help everybody she can.
One of this magical girls is Sakura Kinomoto, the heroine in Sakura Card Captor. This anime, created by CLAMP, follows Sakura and her friends on a quest to collect magical cards so she can use their magic. While CLAMP has always been really fond of lolita fashion and often dresses up their protagonists in it, it suits Sakura very well: she is a young, very kind and gentle girl that wants the best for everybody else, and is full of love and optimism.
  In Sakura Card Captor, the protagonist doesn't get her beautiful, magical dress when she transforms into her "magical self", but this dresses are costumes designed by her cousin Tomoyo Daidouji, Tomoyo really loves the style of anime gothic lolita dress and she thinks they look very beautiful in Sakura, because they make her look like a lovely, powerful princess !
  Of course, Tomoyo doesn't stop at one dress: she frequently designs and sews dresses that she would like to see Sakura wearing, but of course, they all have a very similar silhouette: lace, ribbons, pearls, stars, feathers… and perhaps the most important part of all: a very fluffy, big, pompous skirt that is the essential part of the cute, elegant and beautiful lolita dresses we all know and love !
The accessories Sakura wears are also similar to those of lolita fashion:
knee highs, hair ribbons, berets and shoes with a slight high heel, which create a cute and delicate feminine image. It is really easy to see how Sakura most famous dress has been designed not for comfort, but to be as cute as possible; but in fact all of the dresses she wears are really cute!
For this reason, it is not difficult to see why a lot of the followers of lolita fashion really love this anime, and look at Sakura and Tomoyo not only as fashion icons and to take inspiration from their styles to use in their own outfits, but also as role models: innocence, cheerfulness, kindness, gentleness, a bright and optimistic outlook in life… are those not great qualities for anybody to have ?
While the dresses Tomoyo Daidouji are quite theatrical and dramatic (as she hopes they will make an impression on anyone that sees them) they make great inspiration for more traditional and casual styles of lolita fashion, too. For example, Sakura often wears adornments in her dresses and acessories to compliment her outfit that can make for great Lolita Everyday accessories too !
Sakura wears a beret in her most famous outfit, and they can make for very cute, classical styles for the girls that like to be dressed up and that enjoy wearing charming, eye catching accessories !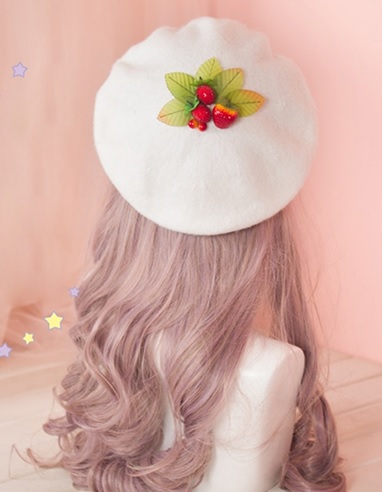 However, the hair ribbons Sakura wears in her white outfit are also a great compliment for toned down, muted, casual styles if you don't want to draw too much attention to yourself. Of course, if you want to look very exaggerated and dramatic, animal ears Lolita Head Band are a choice that will make you really look like her, too !
Another favourite of Tomoyo and Sakura are capes: while they are not extremely popular in lolita fashion nowadays, a lot of Sakura's costumes feature a little cape for an extra layer of cuteness ! Not only that, but while shorter capes are cute and work great for accessorizing longer capes are elegant and demure, and will keep you really warm
One of the most important parts of Sakura's style is the legs: what you wear on your legs not only will make a difference on how warm you are, but it can completely change your look too !
For example, Sakura often wears kneesocks with most of her dresses and they are very popular with most lolita styles as well; however, stockings or tights are popular as well, since they will keep you warmer in the winter while giving you a more mature look !
Shoes are also important: high heels will make you look mature, elegant and feminine, but mary janes will make you feel more comfortable while giving you a childish, fun and cute look !
With a little bit of effort, you could create some beautiful, cute lolita styles and get Lolita Girls' fashion techniques that will make you remember those of your favourite fashion icon, Sakura Kinomoto ! All in all, it is not difficult to see why this anime is so loved by people of all ages all over the world, but specially by little girls and fans and followers of lolita fashion: the beautiful styles created by Tomoyo Daidouji are lovely, eye catching and princess-like and make us dream of turning into little princesses or witches ourselves so we can solve all the problems of the world with kindness, magic and a flawless fashion style ! (And while it might be impossible to magically solve our problems, a beautiful lolita style will make our world seem more bright, more fun and more cute ! Thanks, Sakura and Tomoyo, for your beautiful styles.
Please follow and like us: